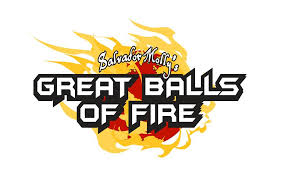 Great Balls of Fire Utility Competition at Salvador Molly's
Event Date: February 17, 2018 from 11am - Noon
Oregon Energy Fund is thrilled to be supported at this competition by employees of Portland General Electric and Pacific Power while they battle it out this weekend during the Great Balls of Fire Utility Competition at Salvador Molly's. The winning team gets bragging rights for an entire year!
In the month of February Salvador Molly's will generously donate $1 to Oregon Energy Fund from each sale of "Great Balls of Fire" "Pele's Volcano" and their "Bleeding Heart" dessert. If you haven't tried one of these famous habanero cheese fritters with "sunshine and pain sauce" yet, now's the time!
The challenge sounds simple: Eat all 5 Great Balls of Fire with Sunshine & Pain hot sauce. If you are successful, your photo will be immortalized on Facebook and Salvador Molly's Hall of Flame. Over the years, hundreds have done it including Travel Channel's Man vs Food. But don't be fooled. Read the warning sign. Think it over. This is seriously hot stuff. Gastrointestinal distress is pretty much guaranteed.