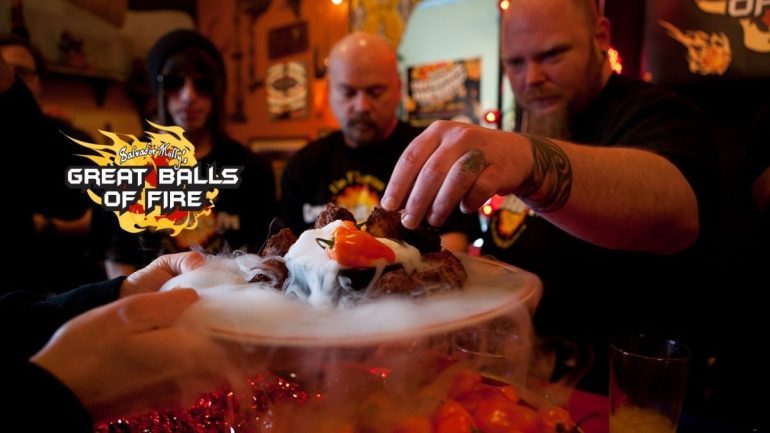 Month of February – Great Balls of Fire Challenge
Event Date: Jan 29 - Mar 4, 2017
– SALVADOR MOLLY'S HEATS UP THIS YEAR'S CHALLENGE –
Special thanks to all of the brave souls who took on Great Balls of Fire Challenge or enjoyed the tasty items on the GBOF menu at Salvador Molly's  throughout February. $1 from every item sold on the Great Balls of Fire Menu, including the enticing habanero balls themselves, was donated to Oregon Energy Fund throughout the month–raising over $700 to help low-income Oregonians get emergency energy when they needed it most.
The series kicked off with the Toughest Tongue in Town challenge as brave challengers competed to eat as many spicey habanero fritters as possible.  Executive Director, Brian Allbritton joined in to lend a hand to the firey festivities.
In mid-February PGE and Pacific Power employees built teams to take on the challenge—each team eating dozens of habanero fritters to raise funds for Oregon Energy Fund. Friends and family also supported the cause as they watched the spicey spectacle, enjoyed Great Balls of Fire menu treats, and cheered for their favorite team.
The month's activities culminated in one last smokin' hot challenge which ended with the crowning of the King of Heat 2017!  For photos and video of the event be sure to visit the Oregon Energy Fund's Great Ball of Fire Facebook Album.
___________________________________________
Oh no!  Did you miss all the February fun? No worries. Contact us at ann@oregonenergyfund.org to learn how you can host your own Great Balls of Fire party with a "Home-Sweet-Heat DIY Challenge" kit.