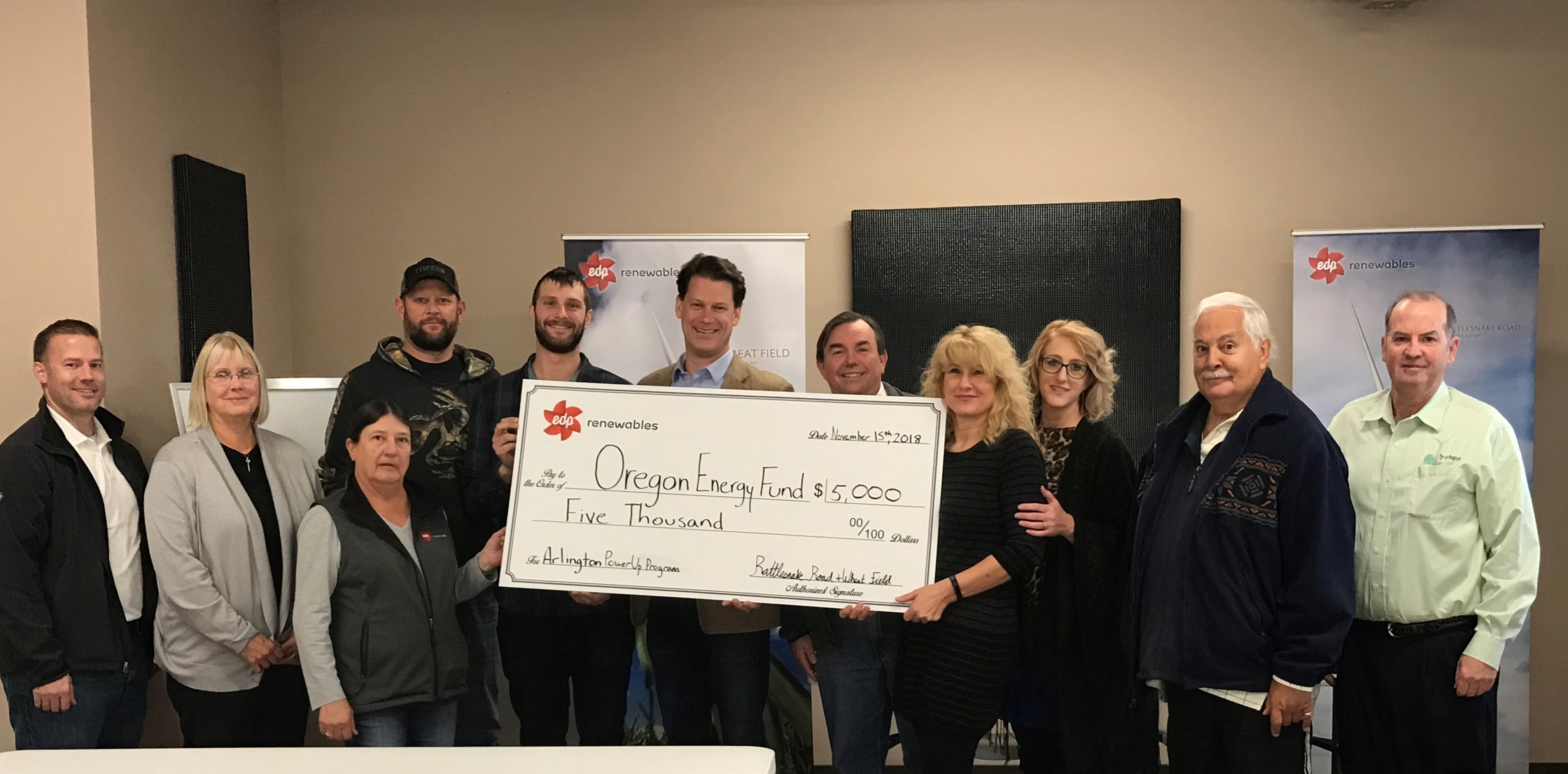 OEF & EDP Renewables launch new PowerUp Program in Arlington
Oregon Energy Fund leadership traveled to the City of Arlington last month for the launch of our new PowerUp Program. The program is sponsored by EDP Renewables (EDPR) and creates a fund of $5,000 for Arlington residents who have suffered a layoff, accident, illness, or other financial emergency and need help paying their utility bills.
The PowerUp Program is a culmination of OEF's pledge to focus on local funding this year, especially in Oregon's rural areas. Our Jackson County Senior Fund, highlighted in the fall newsletter, is another example.
Arlington is tucked into the golden hills that line the eastern Columbia River, about 50 miles east of The Dalles The community is home to Rattlesnake Road Wind Farm, which spans 8,500 acres of private ranchland and is owned and operated by EDPR. By joining with OEF to sponsor the PowerUp Program, EDPR is diverting locally-generated revenue back into the community to support local residents in financial crisis.
A press conference was held on November 15 in the city's new Gronquist Building, during which EDPR External Communications Associate Bevan Augustine presented OEF Executive Director Brian Allbritton with a $5,000 check. Numerous local officials and community members were in attendance, including Port Manager Peter Mitchell and City Recorder Pam Rosenbalm.
"This new collaboration with EDPR adds to our historic funding in Gilliam County and opens the door to new ways to fund communities in need," Allbritton said. "The PowerUp program is an innovative concept of partnering with local businesses to provide greater service and support to their community. In turn, this allows our partners to ensure that the towns where they operate and the people who live there will continue to thrive."
Arlington-area residents who are interested in applying for help should consult OEF's website to find their local agency.
We encourage businesses or donors who are interested in supporting energy assistance programs in their community to contact us at info@oregonenergyfund.org or 971-386-2124.